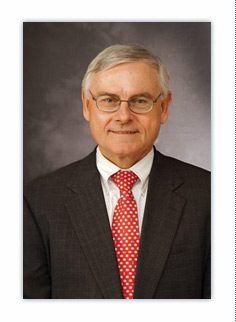 John B. Weldon, Jr.
Member
Education
Hastings College of Law,
University of California, J.D., 1973,
Order of the Coif, Thurston Society,
Hastings Law Review
Fresno State College, B.S., 1969,
Magna Cum Laude, Phi Kappi Phi
Bar & Court Admissions
State Bar of Arizona, 1974
State Bar of California, 1973
(currently inactive)
United States Supreme Court
United States Court of Appeals,
Ninth Circuit
United States Court of Appeals,
District of Columbia
United States District Court,
District of Arizona
John Weldon is a founding member of Salmon, Lewis & Weldon. His practice focuses on water law, natural resources litigation, environmental law, Indian law, and electric power and utilities.
Mr. Weldon's practice concentrates on the representation of the largest water users' association in Arizona, an agricultural improvement and power district, an Arizona municipality, and the co-owners of one of the largest coal-fired electric generation stations in the U.S. in water rights, environmental and natural resource related matters.
Representative Professional Experience
Counsel for the Salt River Project in the Gila River and Little Colorado River general stream adjudications since 1977.
Lead negotiator for the Salt River Project in successfully resolving the water rights claims of the Salt River Pima-Maricopa Indian Community, the Fort McDowell Yavapai Nation, the San Carlos Apache Tribe, the Zuni Indian Tribe, and the Gila River Indian Community, and in securing congressional and court approval of each of these settlements.
Currently actively participating in seeking congressional approval of the White Mountain Apache Tribe water rights settlement and in the completion of negotiations to resolve the water rights claims of the Navajo Nation and Hopi Tribe to the Lower Colorado River and the Little Colorado River in Arizona.
Counsel for objectors in litigation and administrative proceedings relating to the Assured Water Supply designation for an Arizona municipality and associated impacts on river base flows, obtaining a mutually agreeable settlement of disputes among the parties.
Counsel for Salt River Project in successfully negotiating coal royalty rate reopeners in 1997 and 2009 with the Navajo Nation, the Hopi Tribe and Peabody Western Coal Company for coal supplied to an electric generating station in Arizona.
Represented a group of large public and private utilities in five separate actions relating to disputes involving long-term coal supply agreements for two electric generating stations in Arizona and Nevada.
Counsel for the Salt River Project in successfully negotiating the transfer of title to a 15,000 acre-foot capacity reservoir, an 11.5 mile pipeline and related facilities from a Fortune 500 company, and the approval of the severance and transfer of the associated surface water rights by the State of Arizona.
Represented clients on matters relating to the usage of Colorado River water in both the Upper and Lower Basins of the Colorado River, including the negotiation of municipal water delivery agreements for an Arizona municipality.
Represented utilities and water users' organizations in cases before the United States Supreme Court and the Arizona Supreme Court, including all nine Arizona Supreme Court decisions relating to the Gila River General Stream Adjudication.
Honors & Awards
The Best Lawyers in America, Natural Resources Law, Water Law, Environmental Law and Native American Law (1993 – present)
Best Lawyers' 2014 Environmental Law "Lawyer of the Year"
Best Lawyers' 2011 Phoenix Natural Resources "Lawyer of the Year"
International Who's Who of Business Lawyers for Environment, 2011
Martindale-Hubbell, A-V rating
Chambers USA, Arizona Environmental Lawyers
Listed in Lawdragon, 2010
Professional & Civic Activities
Arizona Agri-Business Council, Member 1992 – present
Western Art Associates of the Phoenix Art Museum, Board Member 2006-present, Treasurer 2008 – 2010
Men's Arts Council of the Phoenix Art Museum, Board Member, 1999 – 2008, 2010, President, 2003 – 2004, Chairman, 2001 Cowboy Artists of America Sale & Exhibition
Herberger Theater Center, Board Member, 1992 – 2003, Chairman 1999 – 2001
Mercy Services Corporation – Phoenix, Chairman of the Board of Directors, 1993-1995, Vice Chairman of the Board of Directors, 1991-1993
Xavier Dads' Club, Inc., President of the Board, 1993-1994, Board Member, 1990 – 1995
Publications
Mr. Weldon is a frequent author and speaker on Arizona water law and the Law of the Colorado River:
"Future Indian Water Settlements in Arizona: The Race to the Bottom of the Waterhole," 49 Ariz. L. Rev. 441 (2007), co-authored with Lisa M. McKnight
"Non-Indian Water Users' Goals: More Is Better, All Is Best," Indian Water in the New West, chapter author, The University of Arizona Press, McGuire, Lord and Wallace ed. (1993)
"Salt River Pima-Maricopa Indian Community Settlement," Arizona Water Line, Athia Hardt ed. (1989)
"Environment, Energy and Resources Law: The Year in Review," American Bar Association, Section of Environment, Energy and Resources, Arizona Correspondent, 1989 to 2008
"General Water Rights Adjudication in Arizona: Yesterday, Today & Tomorrow," 27 Ariz. L. Rev. 709 (1985), co-authored with Mikel L. Moore
Speaking Engagements
"The Future of Coal: Pending Regulatory Changes and Legislation," Fifth Annual Conference on Tribal Energy in the Southwest, Law Seminars International, Albuquerque, N.M. , May 2010
"The Winters Doctrine and the Gila River Indian Community: The Good, the Bad and the Ugly," American Bar Association, Section of Environment, Energy and Resources, 16th Section Fall Meeting, Phoenix, AZ, September 2008
"Current Issues Between the United States and the Republic of Mexico Involving the Rio Grande and Colorado River," North American Local Government Lawyers Association Conference, Guadalajara, Mexico, February, 2003
"Arizona's Water Law," CLE International Conference, Scottsdale, Arizona, 1993-2010, Program Chairman and Speaker
"Settlement of Indian Reserved Water Rights Claims," Fifth Western States Water Council/Native American Rights Fund Symposium, Phoenix, Arizona, October 1997
"Arizona Conference on Environmental and Natural Resources Law," State Bar of Arizona Seminar, February 1995
"Understanding & Protecting Your Water Rights in Arizona," Cambridge Institute Conference, Phoenix, Arizona, November 1994 and 1995
Memberships & Affiliations
American Bar Association, Environment, Energy and Resources Law Section
State Bar of Arizona
California State Bar Association
Maricopa County Bar Association
Colorado River Water Users' Association