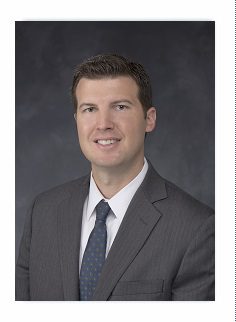 Education
Santa Clara University School of Law
J.D., 2011, magna cum laude,
Order of the Coif
Santa Clara Law Review, Senior Articles Editor (2010-2011)
Loyola Marymount University
B.A., 2008, cum laude
Bar & Court Admissions
State Bar of Arizona, 2016
State Bar of California, 2011
USDC, District of Arizona, 2016
USDC, Central, Northern and Eastern Districts of California, 2012
Michael Foy practices in the areas of water, environmental, and natural resources law.
As a member of SLW's Water Rights and Natural Resources Group, Mr. Foy is actively involved in both of Arizona's pending general stream adjudications (Gila River and Little Colorado River), which collectively encompass more than 25,000 water rights claimants.  In addition to litigation matters, Mr. Foy's water rights practice also includes representing clients in connection with water rights transfers and obtaining necessary approvals from state and federal administrative agencies.
Mr. Foy's environmental practice includes representing clients in disputes arising under the major federal hazardous wastes statutes, including CERCLA and RCRA, as well as WQARF and other state counterpart laws. Mr. Foy regularly advises clients on matters involving the Endangered Species Act, the National Environmental Policy Act, and other laws affecting the ability to use natural resources.  He also has experience defending clients facing common law toxic tort actions and administrative proceedings related to the disposal of hazardous substances.
Prior to joining SLW, Mr. Foy practiced in the Water Law group of a California firm where he represented water suppliers and water users on a range of issues, including groundwater adjudications, transfer and exchange agreements, service area annexations, and compliance with State Water Resources Control Board regulations.
Representative Professional Experience
Served as lead counsel for the Salt River Project in trial to adjudicate the quantity of the United States' federal reserved rights to surface and groundwater for the Fort Huachuca Army installation.
Represents the Salt River Project in two federal lawsuits regarding an irrigation district's claimed ownership of, and right to use, approximately two dozen wells in metropolitan Phoenix.
Represents the Salt River Project in litigation to adjudicate the Bureau of Land Management's federal reserved water right claims for the San Pedro Riparian National Conservation Area.
Extensive experience representing landowners in connection with well-sharing and ditch-sharing disputes.
Extensive experience counseling water suppliers in the transactional context, including representation of a group of mutual water companies merging into a single water supplier and representation of irrigation districts in sale of excess California State Water Project water.
Represented pistachio farmer in comprehensive adjudication of all rights to pump percolating groundwater in California's Antelope Valley.
Defended operators of underground water storage facility in action brought by nearby landowners for alleged lowering of groundwater table.
Represents an industrial gases manufacturer in two related CERCLA private cost recovery actions seeking approximately $40 million in claimed past and future cleanup costs for groundwater contamination in metropolitan Phoenix.
Defended demolition company in CERCLA private cost recovery action brought by landowner seeking reimbursement for costs incurred in responding to release of liquid mercury.
Obtained pre-lawsuit reversal of insurer's decision to deny coverage based on the "pollution exclusion" for costs incurred by asphalt manufacturer in responding to release of coal tar.
Extensive experience counseling clients regarding the regulations applicable to Underground Storage Tanks (USTs) and defending clients in administrative enforcement actions related to leaking USTs.
Extensive experience managing environmental due diligence in various contexts, including business acquisitions and lender liability issues associated with foreclosures on potentially contaminated facilities.
Counseled successor in interest to inactive Arizona copper mine regarding stormwater permitting requirements and ADEQ process for formal mine closure.
Represents operator of coal power plant in Department of the Interior administrative proceeding involving NEPA challenge of operating permit issued to the plant's exclusive coal supplier.
Extensive experience participating in the administrative rulemaking process, including submission of detailed comments on draft rules to the U.S. Environmental Protection Agency and counterpart state agencies.
Publications
Avoiding Environmental Liability in Real Property Transactions

, Kern Business Journal, February/March 2015, at 34

The Contours of the "Duty to Refer" in Today's Specialized Legal Landscape

, The Bencher, July/August 2011, at 10

Apportioning Cleanup Costs in the New Era of Joint and Several CERCLA Liability

, 51 Santa Clara L. Rev. 625 (2011)
Memberships & Affiliations
American Bar Association, Environment, Energy and Natural Resources Law Section
State Bar of Arizona, Environmental and Natural Resources Section
State Bar of California, Environmental Law Section