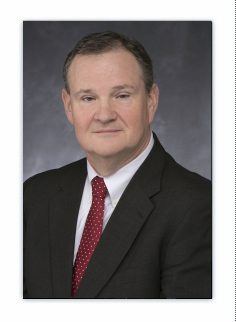 Education
Arizona State University College of Law, J.D., magna cum laude, 1991; Articles Editor, Arizona State Law Journal
University of Arizona,
M.S., Agricultural and Resource
Economics, summa cum laude, 1988
University of Arizona,
B.S., Agricultural and Resource
Economics, magna cum laude, 1984
Bar & Court Admissions
State Bar of Arizona, 1991
United States District Court,
District of Arizona, 1991
United States Court of Appeals,
Federal Circuit, 1995
United States Court of Appeals,
Ninth Circuit, 1998
United States Supreme Court, 2006
Mark McGinnis' practice focuses on water rights, natural resources, environmental, complex commercial litigation, energy law and the law relating to special districts.  His primary clients include an agricultural improvement district, irrigation and electrical districts, cities and towns, industrial entities, individual business owners, and developers.  He has in-depth experience in issues relating to the Arizona Surface Water and Groundwater Codes.
Representative Professional Experience
Trial counsel for objector in proceedings relating to federal reserved water rights for two Arizona Indian reservations.
Litigation counsel for applicant in proceedings relating to permits to store water in six large reservoirs in the Phoenix area, including successfully prosecuting the applications against protests at the administrative, trial court, and appellate court levels.
Trial counsel for objectors in litigation and administrative proceedings relating to Assured Water Supply designation for an Arizona municipality and associated impacts on river base flows, obtaining a mutually agreeable settlement of disputes among the parties.
Successfully defended cattle brand of Arizona rancher, obtaining reversal in Arizona Supreme Court of agency decision to issue duplicate brand.
Obtained preliminary injunctions on behalf of senior water rights holders against individuals and entities alleged to be using water without valid appropriative rights.
Litigation counsel for a multi-county water conservation district and two irrigation districts in court proceedings to obtain judicial approval of an Indian water rights settlement.
Successfully represented owners and operators of Arizona underground water storage facilities against challenges in two separate administrative matters relating to permits issued by the Arizona Department of Water Resources.
Trial counsel for two Arizona irrigation districts successfully defending against landowner challenges relating to the districts' ability to relinquish their long-term Central Arizona Project subcontracts as part of a comprehensive Indian water rights settlement.
Represented a group of large public and private utilities in five separate actions relating to disputes involving long-term coal supply agreements for two electric generating stations located in Arizona and Nevada.
Coordinating counsel for more than forty corporate defendants in a groundwater contamination lawsuit, including two large class action proceedings covering much of the Phoenix metropolitan area and more than 100 consolidated individual personal injury cases.
Actively involved on behalf of the Salt River Project for more than thirty years in the Gila and Little Colorado River general stream adjudications, to determine the relative water rights of more than 25,000 claimants in those watersheds.
Counsel for the Salt River Project for more than thirty years in administrative and judicial proceedings to determine the ownership of the beds of every watercourse in the state of Arizona.
General Counsel for a Pinal County electrical district, overseeing all legal matters relating to the district and its operations.
Honors & Awards
Best Lawyers Phoenix Water Law "Lawyer of the Year" (2013, 2015, 2018, 2024)
Best Lawyers Phoenix Natural Resources Law "Lawyer of the Year" (2014, 2016, 2021)
Best Lawyers Phoenix Environmental Law "Lawyer of the Year" (2017, 2020, 2024)
Top 100 Lawyers in Arizona, Arizona Business Magazine (2017, 2018)
Chambers USA, Arizona Environmental Lawyers (various years)
Martindale-Hubbell, AV rating
The Best Lawyers in America (2006-present)
Southwest Super Lawyers (various years)
Alpha Gamma Rho, Alpha Pi Chapter, Hall of Fame inductee (2019)
Sidney S. Woods Alumni Service Award, University of Arizona (2011)
Alpha Gamma Rho, Alpha Pi Chapter, Alumni Achievement Award (2011)
Young Achiever Award, University of Arizona College of Agriculture and Life Sciences (1995)
Professional & Civic Activities
Sandra Day O'Connor College of Law, Arizona State University (water law), Adjunct Professor (1995-2013)
State Bar of Arizona, Environmental and Natural Resources Law Section, Past Chair
American Bar Association, Water Resources Committee, Section on Environmental, Energy, and Resources Law, Past Vice Chair
ABA Year-in-Review, Water Resources Section, Past Editor
Project CENTRL Agricultural and Rural Leadership Program (Class XI)
Department of Agricultural and Natural Resource Economics, University of Arizona, Alumni Advisory Committee
University of Arizona College of Agriculture and Life Sciences Alumni Council, Past Chair
Sandra Day O'Connor College of Law, Arizona State University, Council on Law and Sustainability Studies
Alpha Gamma Rho, Alpha Pi Chapter Alumni Board, Secretary
Arizona National Livestock Show, Legal Counsel
Ag 100 Council, University of Arizona
Publications
"United States v. Gila Valley Irrigation District:  The Application of Statutory Forfeiture to Pre-1919 Water Rights in Arizona, and Its Potential Ramifications," 8 Ariz. J. Envt'l Law & Policy 69 (Summer 2018)
"Don't Be Left Out to Dry: Recognizing and Addressing Water Supply Issues in Arizona Real Estate Transactions," 46 Arizona State Law Journal 577 (2014)
R. Beck, Waters and Water Rights, 1991 edition and annual supplements (contributing author)
"Mitigating Environmental Externalities Through Voluntary and Involuntary Water Reallocation: Nevada's Truckee-Carson River Basin," 31 Natural Resources Journal 757 (1991)
"Creating a 'New' Class of Water—Regulation of Municipal Effluent," 22 Arizona State Law Journal 987 (1991)
"A Carrot or a Stick? Promoting Water Conservation in Arizona Agriculture," 1 San Joaquin Agricultural Law Review 33 (1991)
"Procedural Aspects of State Water Law: Transferring Water Rights in the Western States," 31 Arizona Law Review 697 (1989)
Representative Speaking Engagements
Co-chair and speaker, Arizona Water Law Conference, CLE International (1995-present)
Sandra Day O'Connor College of Law, Arizona State University, Guest Lecturer (water law) (2014-present)
University of Arizona, College of Agriculture and Life Sciences, Guest Lecturer (water law) (2018-present)
"Arizona Water Law and Policy," Project CENTRL "Natural Resources and Rural Economy" seminar (various years)
"Arizona Surface Water Law and General Stream Adjudications," Law Seminars International "Hydrology and the Law" seminar (2016)
"The Law (and a Little Science) of Arizona Surface Water," Law Seminars International "Hydrology for Lawyers" seminar (2014, 2015)
"The Cost of Ignorance: Potential Water Supply Issues Arising in Arizona Real Estate Transactions," Arizona State University "Saving the Deal" seminar (2013, 2014)
Water Managers Certificate Program, ASU Polytechnic, Guest Lecturer (water law) (2013, 2014)
"Federal Reserved Water Rights for State Trust Lands (or Not)," Arizona State Bar Environmental and Natural Resources Section seminar (2012)
"Update on Processes and Realities for Obtaining Rights to Water under Arizona Law," Law Seminars International "Water and Energy" conference (2011)
"State Water Law and Implications for Water Use Efficiency in Irrigated Agriculture," Irrigation Show, Phoenix (2010)
"Well Sharing Agreements: Why You Should Never Leave Home Without One," Lorman Groundwater seminar (2006)
Memberships & Affiliations
American Bar Association, Section on Environmental, Energy and Resources Law
State Bar of Arizona, Environmental and Natural Resources Law Section
Maricopa County Bar Association